Distributor Meeting in Dubai - EP Sales Summit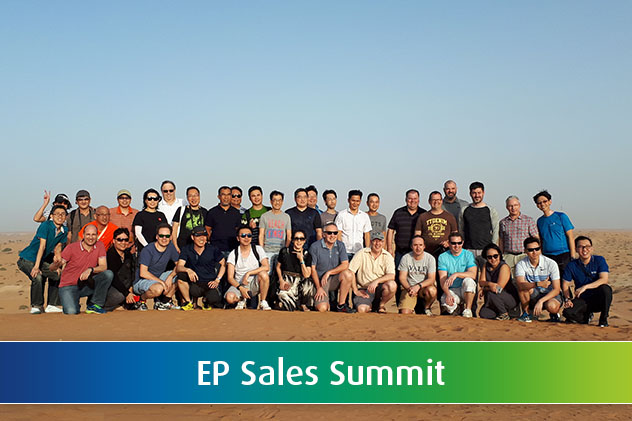 We want to keep all distributors in the loop of actual developments and new products, to support their customers in the various countries as best as possible. Therefore we invite our distributors regularly to our EP sales summit. Also to strengthen the relationship and to exchange information between the different distributors is a main advantage of such an event.
General news and workshop for specific topics
After an update from our Managing Director Thomas Engert about the EP business in general all division managers gave a short overview about the news in their divisions. In 5 different workshops we discussed some topics in detail.
In the workshop high corrosion resistant stacks the focus was about the latest developments and findings regarding different stacks including our RHODUNA®-Alloy 1.
In parallel the RHODUNA® decorative workshop was focused on the input from our distributors about the trends and changes in the different decorative markets to update also ourselves and the needs of their customers in the decorative markets. During the discussions there turned out some interesting topics which we are now working on.
Stefan Müller presented in his workshop Zippers & Buttons for the textile industry the latest developments of our well-known MIRALLOY® electrolytes and their main advantages to the former versions. Also a rough update about the latest development of our cyanide-free MIRALLOY® electrolytes was presented, as "green" environment becomes more and more important.
In addition to the workshop of our high corrosion resistant stacks we updated also about our general product line for the connector industry, which are mainly hard-silver (ARGUNA® 630), silver-palladium (ARGUNA®-Alloy 1), hard-gold with gold-saving possibilities (AURUNA® 8100 Inhibitor) and our sealing processes Umicore Sealing 691 EL and Umicore Sealing 692.
Frank Friebel of our electrocatalytic electrodes division informed in his workshop about possible applications for our insoluble anodes. Also the hard chrome application for our PLATINODES® were discussed.
Inspiring and fruitful discussions
The event was a perfect opportunity to meet friends and colleagues again. The open and friendly discussions will bring us another step forward to serve you as customer at the best of our possibilities.