Umicore Battery Recycling: Capturing profitable growth and enabling a circular and low-carbon battery value chain
As demand for electric vehicles (EVs) grows across the world, volumes of battery production scrap and end-of-life batteries will increase exponentially. With over 15 years of unrivalled expertise in battery recycling at industrial scale, Umicore is in a unique position to meet the needs of automotive manufacturers and the wider EV supply chain.
In 2022, Umicore launched a new business unit, Battery Recycling Solutions, to focus on this fast-growing market. As part of this, Umicore plans a significant scale-up of capacity, with a 150,000-tonne battery recycling plant in Europe expected to be ready by 2026. This will be the biggest battery recycling plant in Europe and will incorporate proprietary metal extraction technologies developed by Umicore's research and engineering teams. Protected by 20 patents, this is the most scalable and cost-efficient battery recycling process in the industry, with the lowest environmental impact and highest yield of recovered critical raw materials and metals.  

The Umicore approach  
Our unique recycling process uses a smart combination of pyro- and hydro-metallurgy. In the pyro-metallurgy stage, our robust high temperature smelting technology converts the end-of-life battery or battery production scraps into a metal alloy (containing cobalt, nickel, and copper) and a lithium-concentrate. The pure metal alloy and lithium concentrate are both further upgraded in lean hydro- metallurgic processes to recover the metals separately as high-quality battery-grade materials. These high-grade battery materials serve as raw materials for the production of new cathode active materials, thereby closing the material loop in the battery value chain.




This two-step recycling process compares favourably with alternative processing methods, which usually involve multiple stages of pre-treatment, heat-treatment, mechanical shredding and physical separation. These steps result in a so-called "black mass'' that is further refined with a hydro-metallurgy process requiring extensive use of chemical reagents in order to reach the required battery-grade end products.
Using the Umicore operational approach, large volumes of diverse input materials are reduced faster in volume and weight using fewer production steps needing far fewer chemical reagents.. In addition, our treatment process does not involve crushing or shredding the live cells and battery modules, resulting in much lower exposure risks for operators to hazardous battery compounds.
Our proprietary process is 20-30% more cost-efficient and results in high recovery yields of over 95% for nickel, copper and cobalt and over 70% for lithium from a wide variety of battery production scraps and end-of-life batteries.
Most importantly, our smartly chosen combination of pyro- and hydro-metallurgical processing steps results in a lower overall carbon footprint. Key to such a lower carbon footprint is the efficient use of the chemical energy present in the input materials, like graphite, electrolyte and plastics in the high temperature processing step, realising a robust separation between valuable and invaluable materials at high scale and at very cost-competitive terms. In fact, carbon present in the battery materials and scraps even provides excess energy that can be converted into steam or electricity. Umicore will leverage its operational excellence and innovation to meet its commitment to carbon-neutral battery recycling, and for the CO2 that Umicore will not be able to design out from the smelter, Umicore will use carbon capture and storage.

Independent verification of LCA study
To compare the sustainability credentials of different battery recycling methods, Umicore conducted lifecycle assessments (LCAs) for the three principal production process flows considered in industry – our proprietary combined pyro- and hydro-metallurgical process, a mechanical-pyrolysis-hydro approach, and a mechanical pre-treatment followed by hydro-metallurgy. The LCAs were conducted according to relevant ISO –standards.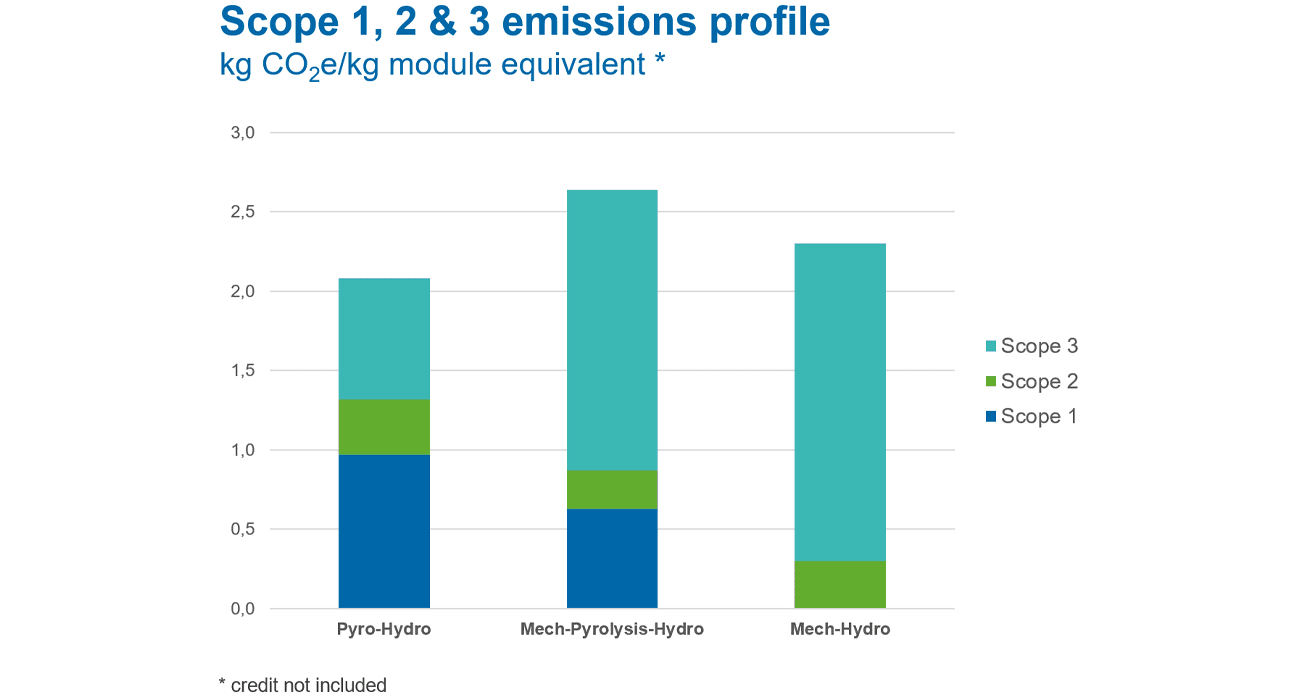 The results are expressed in kilogram CO2 emissions per kilogram of the material input. As can be seen in the diagram, our smart combination of pyro- and hydro-metallurgy has the lowest CO2 impact of the three different battery recycling methods. It is also the most cost-effective and scalable method for quickly reducing high volumes of battery materials – a factor that will be crucial as battery recycling volumes grow and the mixture becomes more complex in line with the maturity and scale of the global EV value chain.
With Umicore's battery recycling solutions, we are not only capturing profitable growth, but enabling the long-term development of a circular and low-carbon battery value chain and creating sustainable value for people and planet.