Celebrating a decade of supporting children
In the last decade we've proudly supported different projects around the globe. It is not about us, but about the people and the communities where we operate. For any donation at Umicore, people are at our heart and our focus goes to education and sustainability.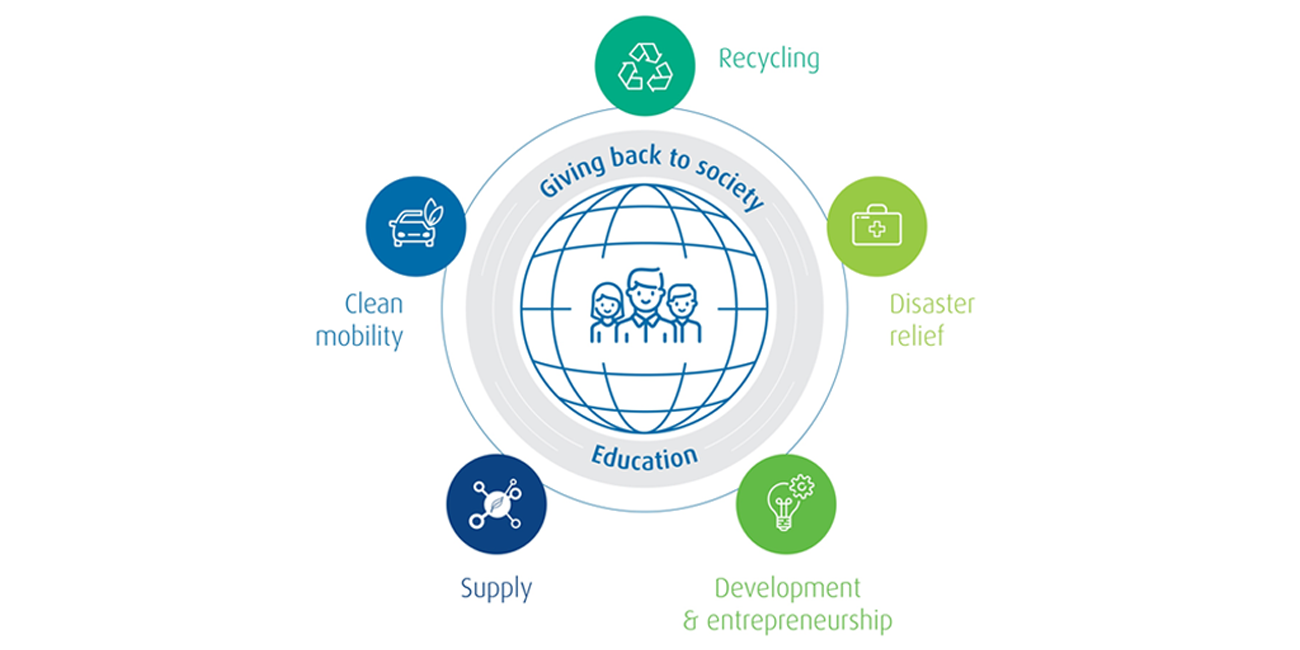 "We are achieving together the greatest impact for children since 2011" shared Fauve Jacobs, account manager partnerships for UNICEF Belgium. Throughout the years we've enabled the access to quality education, water sanitation and hygiene facilities, we've addressed gender inequalities and empowered the youth through skill building and the building of sustainable classrooms.
What is the first thing that comes to mind when you think of UNICEF? There is no way, children and their development didn't pop-up, as their mission states it they work for every child. Since 1946, in the aftermath of World War II, UNICEF has dedicated their time to protect children and their rights. Active in 192 countries the NGO focuses in creating long-term sustainable impact and change together with rapid humanitarian relief, leaving no one behind. This year marks the 10-year anniversary of our partnership with UNICEF.
"We want to create a world where children reach their full potential. This shapes a better tomorrow because children are the future. We are very happy to share this moment with Umicore and celebrate our partnership helping us achieve that." shared Phillippe Schyns, manager partnerships at UNICEF during an online celebration with colleagues around the world. "Making a long and tangible difference requires building powerful and long-term partnerships. Together, we are creating a positive impact on children and communities. Thank you for your commitment in improving the life of children". Umicore has supported projects in Madagascar, India, Haiti and Indonesia.
"I feel lucky" shared Gregoire, a child supported by the UNICEF program in Madagascar. " I wasn't good in school before I had to stop, but the new materials and the way the teacher helped me in the catch-up classes supported by Umicore makes me like school again." UNICEF was able to build 16 sustainable classrooms in Madagascar. These cyclone-resistant eco-friendly classrooms make it possible for 800 children to go to school and include furniture, hygiene kits, water and sanitation facilities.
Marie, a teacher supported by UNICEF shared her experience with us: "The work UNICEF delivered thanks to Umicore has allowed me to strengthen my teaching capacities. I've been able to attend seminars for the first time and benefit from educations support and reading materials. We, teachers, were given books to apply everything we learned."
Gender inequality is also high on the agenda. In our work with UNICEF we connected 1.4 million girls through Meena Manch, a program providing young girls with life skills. Noorsahara, an Indian girl, comments: "Umicore has helped my friends to save my life when I was 13. I was about to be married to my neighbor's son. Thanks to what my friends learned through Meeena Manch, they convinced my family to cancel my marriage. I was able to complete my school education and build a future."
Dirk Jacxsens, Executive Director, UNICEF Belgium closed the virtual celebration with a strong message:
"We exist for 75 years already and the only thing I usually ask people is to share the message. We aim to create systemic change. Through your support, you allow children to grow as kids and learn everything they need to build a better future. It is thanks to partnerships like this that we are able to see the changes we see in the field. We are thankful for the past decade and look forward to keep changing the life of children together with the Umicore family".