Umicore and Volkswagen AG to create European EV battery materials Joint Venture
Regulated information – Inside information
Umicore and Volkswagen AG to create European EV battery materials Joint Venture
Umicore and Volkswagen AG plan to establish a joint venture to build up precursor and cathode material production capacities in Europe to supply Volkswagen AG's European battery cell production, making a considerable contribution to the region's transition towards cleaner mobility.
This partnership will be the first of its kind in the European automotive market. It will help achieve the ambitions of the European Green Deal, including the establishment of a sustainable battery supply chain, and is a strong signal for the ongoing roll-out of innovative battery cell technologies and capabilities in the region.
The intention is to gradually ramp up the JV's precursor and cathode material production capacity. This would start in 2025 with an initial annual production of 20 GWh for Volkswagen AG's plant in Salzgitter, Germany, and should grow to an annual production capacity of up to 160 GWh by the end of the decade. This compares to an annual production capacity capable of powering about 2.2 million full electric vehicles (EVs).
At the same time, next to the intended JV, Umicore will continue to steadfastly develop its technological and production capabilities to serve other customers and regions.
"As a leader in clean mobility materials, we are committed to support our automotive and battery-cell customers with their electrification strategies.

We are very pleased to partner with Volkswagen in this unique joint venture and will bring in our long-standing and proven expertise in battery materials, as well as our strong commitment and solutions to today's sustainability challenges.

The complementarity of our extensive technology, innovation and industrial knowhow, and shared sustainability convictions will provide a strong framework for the JV and will give us a considerable first-mover advantage."

Mathias Miedreich, CEO of Umicore
Thomas Schmall, Member of the Board of Management of Volkswagen Group for Technology and CEO of Volkswagen Group Components: "Volkswagen is implementing its battery strategy very consistently and at a high pace. The Volkswagen unified cell must be at the forefront of performance, costs and sustainability right from the start. Teaming up with Umicore enables us to establish a state-of-the-art supply chain in Europe as we share common values such as responsible sourcing of raw materials, as well as closed-loop thinking."
The partnership's significant scale will provide secure and cost-competitive supplies of innovative, sustainably sourced and tailored high-performance cathode materials for Volkswagen AG's ambitious unified cell strategy. It provides Umicore secured access to an important part of the European demand for EV cathode materials, which will unlock significant economies of scale and represents a major leap forward in the further roll-out of its strategy to be a global leader in clean mobility materials.
In the context of the JV, Umicore and Volkswagen AG will furthermore collaborate on the sustainable and responsible sourcing of raw materials, which is a strong area of expertise of Umicore. Both parties aim to include at a later stage, elements of refining and battery recycling into the scope of the JV.
The planned JV is subject to final agreements and customary conditions, including regulatory approvals.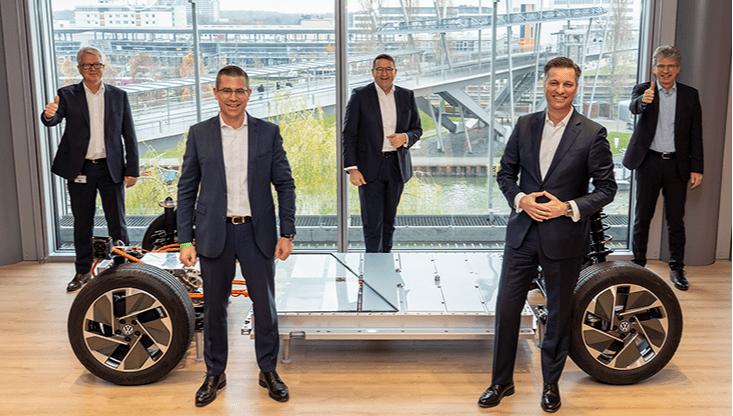 Short-term earnings in battery materials hampered by lower volumes in combination with higher fixed costs related to recent and ongoing expansions
The JV's portfolio offering will cover next-generation technologies, including a very large portion of high-nickel chemistries. The latter have become faster than anticipated the car industry's preferred solution to enable higher energy density and longer driving ranges and this is consequently significantly impacting demand for mid-nickel chemistries. Umicore successfully fast-tracked innovation on the next generation higher nickel product and process capabilities and now offers industry-leading high nickel cathode material technology, as also witnessed by today's announcement.
In the short-term, Umicore is still largely exposed to mid-nickel NMC platforms. Customer demand projections for certain of these qualified mid-nickel platforms are being scaled back to their minimum offtake commitments, resulting in lower volume forecasts for 2022 and 2023, beyond the negative volume impacts from semiconductor shortages. Consequently, Umicore now expects growth in its cathode material sales volumes in 2022 and 2023 to be less than previously anticipated and to be below the anticipated global market growth. These scaled-down short-term volume expectations, together with the need to increase fixed costs to prepare for the expected steep mid-term growth, such as higher R&D expenses and costs related to the recent and ongoing expansions, are likely to result in lower-than-expected earnings growth in Rechargeable Battery Materials in 2022 and 2023. Hence, assuming that Cobalt & Specialty Materials will not repeat the exceptionally strong 2021 performance, the earnings of the Energy & Surface Technologies segment are not expected to show a significant uplift over that period.


Strong mid-term earnings growth comforted
Umicore's innovation pipeline and strong track record in cathode material technologies, alongside with its flexible production system have allowed to act with agility to the rapidly evolving customer voice. The intention to set up this JV with Volkswagen AG contributes further strength to the Group's competitive positioning. Its strong technology roadmap, synced with customers' requirements, puts Umicore in a unique position to disproportionally benefit in the mid-term from the extremely high anticipated growth in EV battery materials. This will significantly boost operating leverage through economies of scale and will allow Umicore to achieve attractive margins and returns in its fast-growing battery materials activity.



Conference call and webcast
A conference call and webcast will be hosted by Mathias Miedreich, CEO, and Filip Platteeuw, CFO, Wednesday December 8 at 9:00 am CET.
Umicore et Volkswagen AG créent une coentreprise européenne de matériaux pour batterie de véhicules électriques
Umicore et Volkswagen AG prévoient de créer une coentreprise afin de développer des capacités de production de précurseurs et de matériaux cathodiques en Europe pour alimenter la production européenne de cellules de batteries de Volkswagen AG, apportant ainsi une contribution considérable à la transition de la région vers une mobilité plus propre.
Ce partenariat sera le premier de ce type sur le marché automobile européen. Il contribuera à la réalisation des ambitions du Pacte vert pour l'Europe, y-compris la mise en place d'une chaîne d'approvisionnement durable des batteries. Il constitue un signal fort pour le déploiement continu de technologies et de capacités innovantes en matière de cellules de batteries dans la région.
L'objectif est d'augmenter progressivement la capacité de production de précurseurs et de matériaux cathodiques de la coentreprise. Cela commencerait en 2025 avec une production annuelle initiale de 20 GWh pour l'usine de Volkswagen AG à Salzgitter, en Allemagne, et devrait atteindre une capacité de production annuelle de 160 GWh à la fin de la décennie. Ce chiffre correspond à une capacité de production annuelle capable d'alimenter environ 2,2 millions de véhicules entièrement électriques (VE).
Dans le même temps, en parallèle à la coentreprise envisagée, Umicore continuera à développer résolument ses capacités technologiques et de production pour servir d'autres clients et régions.
"En tant que leader des matériaux de mobilité propre, nous nous engageons à soutenir nos clients du secteur automobile et des cellules de batterie dans leurs stratégies d'électrification.

Nous sommes très heureux de nous associer à Volkswagen dans le cadre de cette coentreprise unique et nous apporterons notre expertise de longue date et reconnue dans le domaine des matériaux pour batteries, ainsi que notre engagement ferme et nos solutions aux défis actuels en matière de durabilité.

La complémentarité de notre technologie étendue, de notre innovation et de notre savoir-faire industriel, ainsi que de nos convictions partagées en matière de durabilité, fourniront un cadre solide à la coentreprise et nous donnera un avantage considérable en tant que pionnier."

Mathias Miedreich, CEO d'Umicore
Thomas Schmall, membre du Conseil de Direction du groupe Volkswagen pour la technologie et CEO du groupe Volkswagen Components : "Volkswagen met en œuvre sa stratégie en matière de batteries de manière très cohérente et à un rythme élevé. La cellule unifiée de Volkswagen doit être à la pointe de la performance, des coûts et de la durabilité dès le départ. Faire équipe avec Umicore nous permet d'établir une chaîne d'approvisionnement de pointe en Europe, alors nous partageons des valeurs communes telles que l'approvisionnement responsable en matières premières, ainsi que modèle en boucle fermée."
L'ampleur du partenariat permettra un approvisionnement sûr et compétitif en matériaux cathodiques innovants, durables et sur mesure pour la stratégie ambitieuse de Volkswagen AG en matière de cellules unifiées. Il offre à Umicore un accès sécurisé à une part importante de la demande européenne de matériaux pour cathodes de VE, ce qui permettra de réaliser d'importantes économies d'échelle et représente une avancée majeure dans le déploiement de sa stratégie visant à devenir un leader mondial des matériaux pour la mobilité propre.
Dans le cadre de la coentreprise, Umicore et Volkswagen AG collaboreront en outre à l'approvisionnement durable et responsable en matières premières, qui est un domaine d'expertise majeur d'Umicore. Les deux parties ont l'intention d'inclure, à un stade ultérieur, des éléments de raffinage et de recyclage des batteries dans le champ d'application de la coentreprise.
Le projet de coentreprise est soumis à des accords définitifs et aux conditions habituelles, y compris les approbations réglementaires.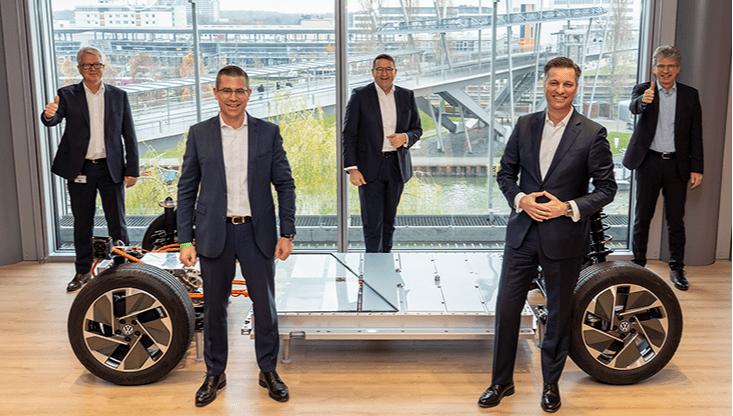 Les bénéfices à court terme dans le secteur des matériaux pour batteries ont été entravés par la baisse des volumes et l'augmentation des coûts fixes liée aux expansions récentes et en cours.
L'offre de portefeuille de la coentreprise couvrira les technologies de nouvelle génération, y compris une très grande partie des produits chimiques à haute teneur en nickel. Ces derniers sont devenus plus rapidement que prévu la solution préférée de l'industrie automobile pour permettre une densité énergétique plus élevée et une plus grande autonomie, ce qui a par conséquent un impact significatif sur la demande de produits chimiques à teneur moyenne en nickel. Umicore a réussi à accélérer l'innovation sur la nouvelle génération de produits et de procédés à haute teneur en nickel et offre désormais une technologie de pointe en matière de matériaux cathodiques à haute teneur en nickel, comme en témoigne l'annonce d'aujourd'hui.
A court terme, Umicore est encore largement exposée aux plates-formes NMC mid-nickel. Les projections de la demande des clients pour certaines de ces plates-formes mid-nickel qualifiées sont ramenées à leurs engagements d'achat minimum, ce qui entraîne des prévisions de volume inférieures pour 2022 et 2023, au-delà des impacts négatifs sur le volume dus aux pénuries de semi-conducteurs. Par conséquent, Umicore s'attend désormais à ce que la croissance des volumes de ventes de matériaux cathodiques en 2022 et 2023 soit inférieure aux prévisions antérieures et à la croissance anticipée du marché mondial. Ces prévisions de volumes réduits à court terme, ainsi que la nécessité d'augmenter les coûts fixes pour se préparer à la forte croissance attendue à moyen terme, tels que des dépenses de R&D plus élevées et des coûts liés aux expansions récentes et en cours, sont susceptibles d'entraîner une croissance des bénéfices de Rechargeable Battery Materials inférieure aux prévisions de 2022 et 2023. Par conséquent, en supposant que Cobalt & Specialty Materials ne réitérera pas la performance exceptionnellement forte de 2021, les bénéfices du segment Energy & Surface Technologies ne devraient pas connaître d'augmentation significative durant cette période.


Une forte croissance des bénéfices à moyen terme confortée
Le flux d'innovations d'Umicore et ses solides antécédents en matière de technologies de matériaux cathodiques, ainsi que son système de production flexible, lui ont permis de réagir avec agilité à l'évolution rapide de la demande des clients. L'intention de créer cette coentreprise avec Volkswagen AG contribue à renforcer le positionnement concurrentiel du Groupe. Sa solide feuille de route technologique, synchronisée aux exigences des clients, place Umicore dans une position unique pour bénéficier de manière disproportionnée, à moyen terme, de la croissance extrêmement élevée prévue dans le domaine des matériaux pour batteries de véhicules électriques. Cela renforcera considérablement l'effet de levier opérationnel par le biais d'économies d'échelle et permettra à Umicore de réaliser des marges et des rendements attrayants dans son activité à croissance rapide de matériaux pour batteries.


Conférence téléphonique et webcast
Une conférence téléphonique et un webcast seront organisés en présence de Mathias Miedreich, CEO, et Filip Platteeuw, CFO, le mercredi 8 décembre à 9h00 CET.
Umicore en Volkswagen AG richten Europese joint venture voor EV-batterijmaterialen op
Umicore en Volkswagen AG hebben de intentie een joint venture (JV) op te richten om capaciteit in Europa op te bouwen voor de productie van precursoren en kathodemateriaal voor de bevoorrading van de Europese batterijcellenproductie van Volkswagen AG, waarmee in de regio een aanzienlijke bijdrage wordt geleverd aan de overgang naar schonere mobiliteit.
Dit partnerschap is het eerste in zijn soort binnen de Europese automarkt. Het zal bijdragen tot de verwezenlijking van de ambities van de Europese Green Deal, waaronder de totstandbrenging van een duurzame toeleveringsketen voor batterijen. Het is een sterk signaal voor de verdere uitrol van innovatieve batterijceltechnologieën en -capaciteiten in de regio.
De productiecapaciteit voor precursoren en kathodemateriaal van de JV zou geleidelijk opgevoerd worden en zou in 2025 zijn aanvang nemen met een initiële jaarlijkse productie van 20 GWh voor de fabriek van Volkswagen AG in Salzgitter, Duitsland. Tegen het einde van het decennium zou dit moeten uitgroeien tot een jaarlijkse productiecapaciteit van 160 GWh, wat overeenkomt met een equivalente capaciteit om jaarlijks ongeveer 2,2 miljoen volledig elektrische voertuigen (EV's) aan te drijven.
Naast de voorgenomen JV, zal Umicore tegelijkertijd haar technologische en productiecapaciteiten gestaag blijven ontwikkelen om andere klanten en regio's te bedienen.
"Als leider in materialen voor schone mobiliteit zetten wij ons in om onze klanten in de auto- en batterijcelindustrie te ondersteunen bij hun elektrificatiestrategieën.

We zijn zeer verheugd met Volkswagen samen te werken in deze unieke joint venture en zullen onze jarenlange en bewezen expertise in batterijmaterialen inbrengen, evenals ons sterk engagement en onze oplossingen voor de huidige uitdagingen op het vlak van duurzaamheid.

De complementariteit van onze uitgebreide technologie, innovatie en industriële knowhow, en onze gedeelde duurzaamheidsovertuigingen zullen een sterk kader vormen voor de JV en ons een aanzienlijk voordeel als eerste speler opleveren."

Mathias Miedreich, CEO van Umicore
Thomas Schmall, lid van de Directieraad van Volkswagen Group for Technology en CEO van Volkswagen Group Components: "Volkswagen rolt zijn batterijcellenstrategie zeer consequent en aan een hoog tempo uit. De eengemaakte cel van Volkswagen moet van meet af aan toonaangevend zijn op het gebied van prestaties, kosten en duurzaamheid. Met Umicore in zee gaan stelt ons in staat om binnen Europa een geavanceerde bevoorradingsketen uit te bouwen waarbij we gemeenschappelijke waarden met betrekking tot verantwoorde bevoorrading met grondstoffen evenals kringloopbenadering delen."
De aanzienlijke schaal van het partnerschap zal zorgen voor een zekere en kostcompetitieve bevoorrading met innovatieve, duurzaam gewonnen en op maat gemaakte hoog-performante kathodematerialen voor de ambitieuze strategie van Volkswagen AG voor eengemaakte cellen. Het verzekert Umicore's toegang tot een belangrijk deel van de Europese vraag naar EV-kathodematerialen, wat aanzienlijke schaalvoordelen zal opleveren en een grote sprong voorwaarts betekent in de verdere uitbouw van haar strategie als wereldleider in materialen voor schone mobiliteit.
In het kader van de JV zullen Umicore en Volkswagen AG voorts samenwerken aan de duurzame en verantwoorde bevoorrading met grondstoffen, een sterk expertisegebied van Umicore. Beide partijen streven ernaar om in een later stadium ook raffinage- en batterijrecyclage-elementen in het toepassingsgebied van de JV op te nemen.
De geplande joint venture is afhankelijk van definitieve overeenkomsten en gebruikelijke voorwaarden, waaronder goedkeuring door de regelgevende instanties.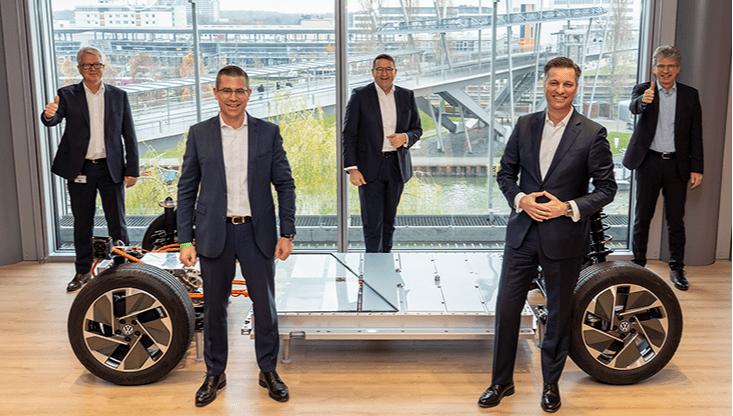 Resultaat in batterijmaterialen op korte termijn geïmpacteerd door lagere volumes in combinatie met hogere vaste kosten gerelateerd aan recente en lopende uitbreidingen
Het portfolio-aanbod van de JV zal technologieën van de volgende generatie omvatten, waaronder een zeer groot deel kathodematerialen met hoog nikkelgehalte. Deze laatste zijn sneller dan verwacht de voorkeursoplossing van de auto-industrie geworden om een hogere energiedensiteit en langere rijafstanden mogelijk te maken. Dit heeft bijgevolg een aanzienlijke impact op de vraag naar mid-nikkel kathodematerialen. Umicore heeft met succes haar innovatie op het vlak van de volgende generatie hogere nikkelproducten en -processen versneld en biedt nu een toonaangevende technologie voor kathodematerialen met hoog nikkelgehalte, zoals ook uit de aankondiging van vandaag blijkt.
Op korte termijn is Umicore nog steeds grotendeels blootgesteld aan mid-nikkel NMC-platformen. De vooruitzichten van klanten voor de vraag naar bepaalde van deze gekwalificeerde mid-nikkel-platformen worden teruggeschroefd tot hun minimale afnameverplichtingen, wat leidt tot lagere volumeprognoses voor 2022 en 2023, bovenop de negatieve volume-impact van de tekorten in de halfgeleidersector. Bijgevolg verwacht Umicore nu dat de groei van haar verkoopvolumes van kathodemateriaal in 2022 en 2023 minder zal zijn dan eerder verwacht en onder de verwachte groei van de markt wereldwijd zal liggen. Deze lagere volumeverwachtingen op korte termijn, in combinatie met de noodzaak om de vaste kosten te verhogen ter voorbereiding op de verwachte steile groei op middellange termijn, zoals hogere O&O-uitgaven en kosten in verband met de recente en aan de gang zijnde uitbreidingen, zullen waarschijnlijk resulteren in een lager dan verwachte winstgroei in Rechargeable Battery Materials in 2022 en 2023. Ervan uitgaande dat Cobalt & Specialty Materials de uitzonderlijk sterke prestatie van 2021 niet zal herhalen, wordt dan ook niet verwacht dat de winst van het segment Energy & Surface Technologies over die periode een aanzienlijke stijging zal vertonen.


Sterke winstgroei op middellange termijn veiliggesteld
De innovatiepijplijn van Umicore en haar sterke staat van dienst op het gebied van technologieën voor kathodematerialen, samen met haar flexibele productiesysteem, hebben het mogelijk gemaakt om wendbaar in te spelen op de snel evoluerende stem van de klant. De intentie om deze joint venture met Volkswagen AG op te richten draagt verder bij tot de concurrentiepositie van de Groep. Haar sterke technologische routekaart, afgestemd op de behoeften van de klanten, plaatst Umicore in een unieke positie om op middellange termijn onevenredig voordeel te halen uit de extreem hoge verwachte groei op het vlak van EV-batterijmaterialen. Dit zal het operationele hefboomeffect aanzienlijk versterken, dankzij schaalvoordelen en zal Umicore in staat stellen aantrekkelijke marges en rendementen te realiseren in haar snelgroeiende activiteit batterijmaterialen.

Conference call en webcast
Een conference call en webcast zullen worden gehouden door Mathias Miedreich, CEO, en Filip Platteeuw, CFO, op woensdag 8 december om 9:00 uur CET.